Competio
In July, we tried out the new online showing app, Competio. We chose to try the showmanship class and enlisted Carin and Twinkie to enter, too. Carin regularly competes in AQHA Showmanship, while while I haven't competed for many years and I haven't yet entered any showmanship classes with my horse, Mr Giles.
We liked that show attire is not required. As I haven't competed for a long while I have no showmanship outfits, so being able to enter a class and not worry about that is a real plus. Not having to dress for a show also takes the hassle out of getting ready so can you can decide anytime that today's the day to record a video and enter.
The pattern was as challenging as any that you would have to do at a traditional show and, even though you can record your video as often as you like, (so can everyone else), it doesn't take anything away from the competitiveness. The pattern is available to download well in advance and there is even a video to show you how to complete the pattern.
All you need is a camera (a smart phone will do), someone to film you (or somewhere to sit a camera) and an internet connection. You don't even need an arena, since you can film anywhere that you would normally work with your horse.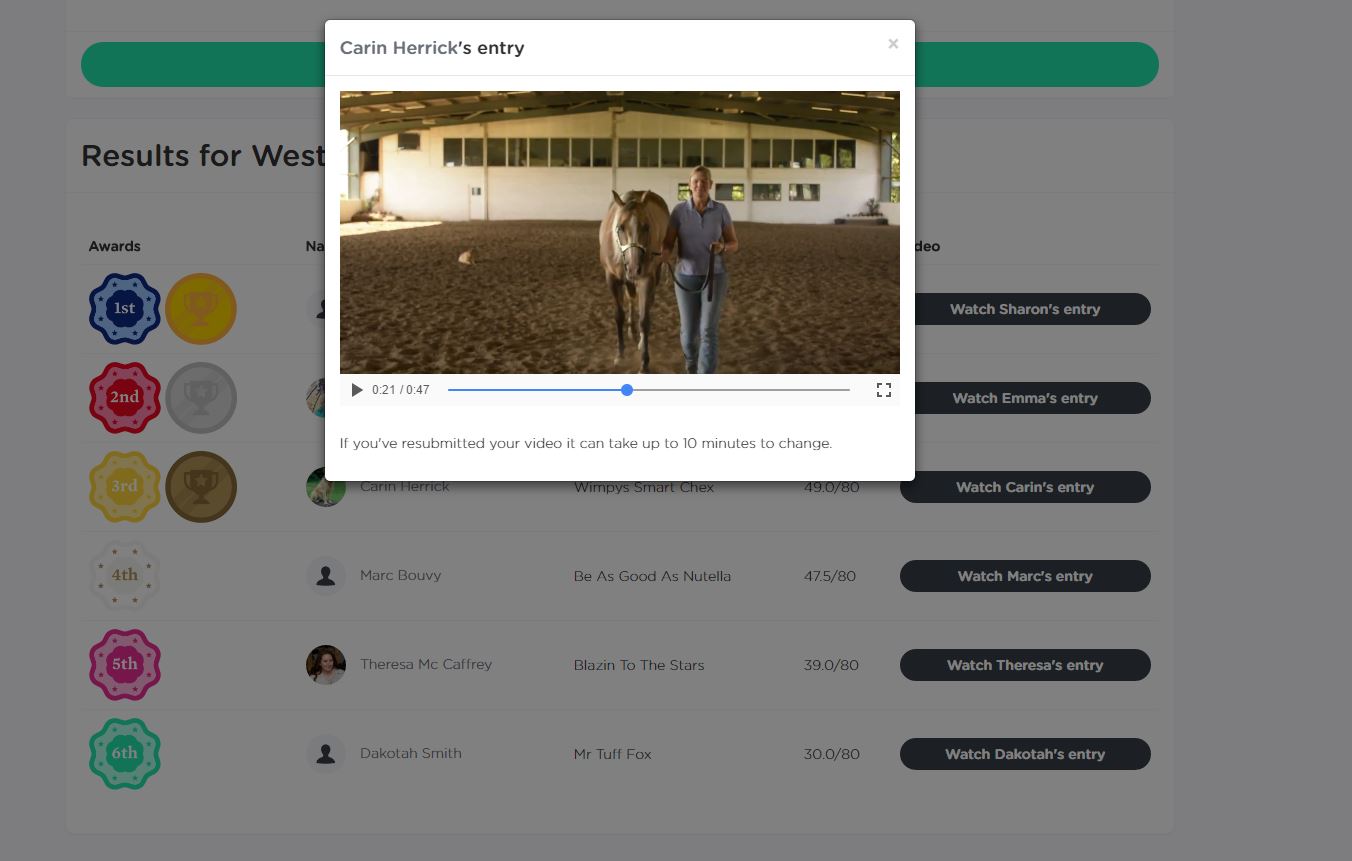 The judge for showmanship was Lisa Ligon. Lisa is an AQHA, APHA and ApHC Judge and AQHA/APHA Professional Horseman; she holds a Category 1 NSBA Judges Card, as well as an AQHA Specialised Novice Judges Card. She has worked professionally in the horse showindustry for over 15 years. Competio run monthly competitions, so you can enter and upload your video at any time that suits you. The competitions start on the 1st of the month and close on the last day of the month; it takes about a week for the results to be published. Once the results are issued, you will see a score for each of your manoeuvres and notes from the judge about your performance, what went well and what you may want to work on for your next entry.
So, how did we do? Carin was placed 3rd, with a score of 49/80, and I was placed 5th, with a score of 39/80. The feedback was useful, and it is helpful being able to watch yourself back once you have the feedback from the judge. You can also look at the videos that the other competitors submitted.
OVERALL VERDICT:
Competio is a great way to show without all the fuss that a traditional show entails. The website is easy to use so you don't need to be a tech genius to enter. You can enter on your own, but we found it was a good opportunity to get together with friends and practice, then join the class. It would be nice, as the Competio community grows, to be able to chat within the app with other competitors, just as you would at a traditional show.
WHAT WE LIKED ABOUT ENTERING AN ONLINE CLASS:
Not having to worry about show attire

Show when we like

Not having to travel

Low cost

Competing against people from anywhere in the world

Open to any horse breed
FUTURE FEATURES WE WOULD LIKE
Seeing fellow competitors' countries on their profile

Ability to view other competitors' scores